Listen to an exclusive clip from Malcolm Gladwell's groundbreaking audiobook TALKING TO STRANGERS
ABOUT THE BOOK: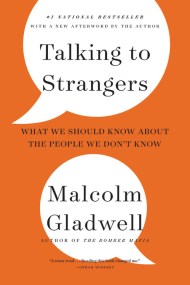 On Sale September 10th, 2019
What We Should Know about the People We Don't Know
Talking to Strangers is a powerful examination of our interactions with strangers—and why they often go wrong. Gladwell revisits the deceptions of Bernie Madoff, the trial of Amanda Knox, the suicide of Sylvia Plath, the Jerry Sandusky pedophilia scandal at Penn State University, and the death of Sandra Bland—throwing our understanding of these and other stories into doubt. Something is very wrong, Gladwell argues, with the tools and strategies we use to make sense of people we don't know. And because we don't know how to talk to strangers, we are inviting conflict and misunderstanding in ways that have a profound effect on our lives and our world.